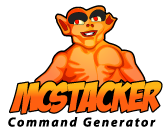 Become an MCStacker Patreon to make these ads disappear. Head over to
patreon.com/mcstacker
to get this month's ad-free link.
Welcome to this new version of MCStacker. This Minecraft command generator has been designed is to focus first on the commands and then make the form dynamically show you options relevant to your previous selections. So depending on what entities, blocks or items you've chosen, will determine what other options become available. A lot of the cool functionality is buried in the system and many people may not fully know what can be achieved with this generator. So here's a short summary of the specific options available for some items and blocks.
Items
Blocks/Tiles
Enchanted Book
Player Skulls (via minecraft-heads.com)
Written Book (JSON)
Writable Book
Sign (JSON)
Fireworks / Firework Charge
Spawn Eggs (All specific Mob NBT)
Armor Stand
Potion (Splash, Lingering & Tipped Arrow)
Chests, Trapped Chests & Shulker Box
Banners and Shields (via needcoolshoes.com/banner)
Knowledge book
Wall and Standing Banners
Enchanting Table
Beacon
Bed
Brewing Stand
Chests, Trapped Chests & Shulker Box
Dropper
Dispenser
Furnace
Hopper
Command Blocks
End Gateway
Flower Pot
Jukebox
Mob Spawner (all entites and specific NBT)
Wall and Standing Signs
Note Block
Skull
Structure Block
Most of the useful options for every entity has been implemented for sometime. To learn more about what this MCStacker reboot is all about, check out the MCStacker Patreon Page and please support this project if you can.

As always requests, comments, feedback and bug reports are welcome at bimbimma@gmail.com. Here's the thread on mincraftforum.net for MCStacker.
Support MCStacker with Patreon

Become an MCStacker Patreon to make these ads disappear. Head over to
patreon.com/mcstacker
to get this month's ad-free link.
Command Output
Disable Output
Refresh
Copy
Import Command
Import
Clear
X