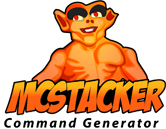 Become an MCStacker Patreon to make these ads disappear. Head over to
patreon.com/mcstacker
to get the ad-free link.
Welcome to MCStacker for Minecraft 1.16. This website will help you generate many commands for Minecraft Java Edition. Many of the specific options available for items and blocks can be generated with this tool. MCStacker began in 2014 and many new features have been added regularly ever since. I continue to implement new functionality and keep it up-to-date to the lastest version of Minecraft.
Recent additions & bug fixes

Cut, Copy and Paste in all text component editors.
100 Command History. Use Ctrl+Z if you accidentally deleted something and you need to get it back. Ctrl+Y goes the opposite direction through the history. Command History is persistent so you can still access your command history even after the browser is closed and reopened.
Fixed a bug where commands containing a string of more than one space in a row were not being preserved when imported.
keybind text component added.
The 1.17 version of MCStacker.
Check out MCStacker on the Patreon Page and please support this project if you can. As always requests, comments, feedback and bug reports are welcome at bimbimma@gmail.com or on the MCStacker Discord Server
If you are looking for alternative versions of MCStacker, you can find them all here.
Become an MCStacker Patreon to make these ads disappear. Head over to
patreon.com/mcstacker
to get the ad-free link.
Import Command
Import
Clear
X
MCStacker Internal Clipboard
Content
?
X