Become an MCStacker Patreon to make these ads disappear. Head over to
patreon.com/mcstacker
to get the ad-free link.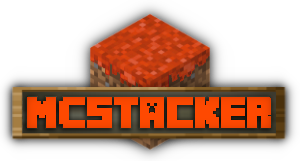 MCStacker for Minecraft Java Edition 1.20
Welcome to MCStacker for Minecraft 1.20. This website will help you generate many commands for Minecraft Java Edition. Many of the specific options available for items and blocks can be generated with this tool. MCStacker began in 2014 and many new features have been added regularly ever since. I continue to implement new functionality and keep it up-to-date to the lastest version of Minecraft.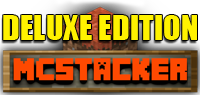 Development of this site relies on your ongoing support. You can help support me by purchasing the Installable Deluxe Edition or the current Offline Version of MCStacker. Or you could support me on Patreon. That also gets you the offline version. Or if you want to, an occasional donation on Ko-fi is also appreciated.
The Deluxe Edition is an installable version of MCStacker for Windows, Mac and Linux. It has all the same commands as the online version plus some exclusive features:
Command history (find that command you worked on ages ago)
Command List Import/Export (mcfunction, txt, whatever)
Import/Output Diff Checker (Uh oh. My command came out different. What's going on?)
Lifetime updates
As always requests, comments, feedback and bug reports are welcome at bimbimma@gmail.com or on the MCStacker Discord Server
Matt / PyroStunts
Become an MCStacker Patreon to make these ads disappear. Head over to
patreon.com/mcstacker
to get the ad-free link.
Import Command
X
Import
Clear
MCStacker Internal Clipboard
X
Content