Become an MCStacker Patreon to make these ads disappear. Head over to
patreon.com/mcstacker
to get the ad-free link.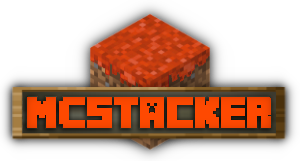 MCStacker for Minecraft Java Edition 1.19
Welcome to MCStacker for Minecraft 1.19. This website will help you generate many commands for Minecraft Java Edition. Many of the specific options available for items and blocks can be generated with this tool. MCStacker began in 2014 and many new features have been added regularly ever since. I continue to implement new functionality and keep it up-to-date to the lastest version of Minecraft.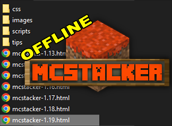 Advertising of MCStacker is not as viable as it once was despite traffic to the site being as high as it's ever been. I guess there are many economic and/or regulatory reasons for this. I would love to remove advertising for everyone but I'll need your support. There are a few ways you can do this. You could buy the current offline version of MCStacker. Or you could support me on Patreon. That also gets you the offline version. Or if you want to, an occasional donation on Ko-fi is also appreciated. So if I can get direct monthly finacial support up significally. I will ditch ads on this site for everyone. I'll look forward to this day.
In the previous month the site reached 14% of it's combined Patreon and Ko-fi support goal. That means that there is a 14% chance ads will not show when you next reload/refresh the site. Thank you to all the supporters who made this possible. You all rock.
As always requests, comments, feedback and bug reports are welcome at bimbimma@gmail.com or on the MCStacker Discord Server
If you are looking for alternative versions of MCStacker, you can find them all here.
Become an MCStacker Patreon to make these ads disappear. Head over to
patreon.com/mcstacker
to get the ad-free link.
Import Command
X
Import
Clear
MCStacker Internal Clipboard
X
Content