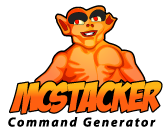 Become an MCStacker Patreon to make these ads disappear. Head over to
patreon.com/mcstacker
to get the ad-free link.
This version of MCStacker is for Minecraft 1.12 only although some commands may work in MC 1.13.
Check out the MCStacker Patreon Page and please support this project if you can.
If you are looking for alternative versions of MCStacker, you can find them all here.
As always requests, comments, feedback and bug reports are welcome at bimbimma@gmail.com. Here's the thread on mincraftforum.net for MCStacker.
Support MCStacker with Patreon

Become an MCStacker Patreon to make these ads disappear. Head over to
patreon.com/mcstacker
to get the ad-free link.
Command Output
Disable Output
Refresh
Copy
Import Command
Import
Clear
X